Ever since Good to Great, there has been a driving trend in our industry for more measurement and more understanding.  This holds true with our internal systems and applications just as much as all of our management and leadership teams.
Let's Introduce our Newest Partner in APM
AppDynamics (www.appdynamics.com) offers a holistic approach to Application Performance Monitoring and Management.  Because their approach is so light weight, it can be always on and continuously monitoring interactions between applications and systems across IT datacenters and even across geographies.
The Application Intelligence Platform works like this:
First, agents are installed wherever monitoring can be performed.  This includes JVMs for instrumentation – watching every line of code, every transaction, every piece of data, and every new service and dependency.
Next, data is processed with real time event streams, time series clustering, event correlation and information indexing so that the behavioral learning engine can be engaged and get a progressively better and better view of the what, when, where, why and how your applications works.
Finally, dynamic transaction flow maps, real time business metrics, a query language and a custom dashboard are made available to assist human beings in performing multi-dimensional drill down activities on the holistic view of the application as it runs and even compare performance regressions between current and previous releases of the software.
Put together, the AppDynamics Application Intelligence Platform allows IT Operations and other departments to work together, in a very visual way, to derive insight into customer experiences, detailed business data, and ultimately gain an extremely precise understanding of application performance and the use of runtime infrastructure.  No other product on the market incorporates all of these features in a single offering.
Using open APIs, customers and consultants can extend AppDynamics to more tightly integrate with the overall IT ecosystem by creating extensions for monitoring and alerting, cloud auto-scaling, or by leveraging a REST API.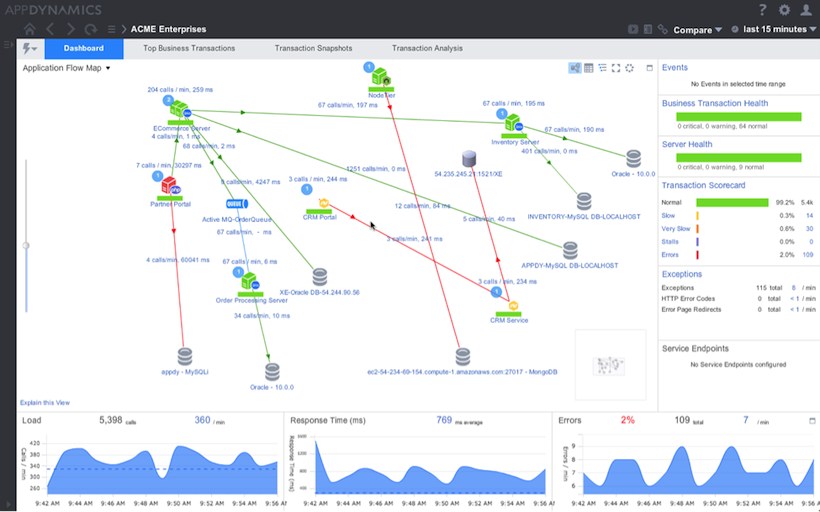 Did I mention that AppDynamics offers more than just application monitoring, but also end-user experience monitoring?  Businesses using and producing mobile applications can visualize user experiences, including latency and application crash events and use those metrics to improve end user experience over time.
Since all of the AppDynamics product offering is focused on giving all of us the tools we need to make our business better and improve the customer experience, partnering with them makes a lot of sense.  We at Shadow-Soft are excited to be an AppDynamics partner and enabling your organization to benefit from intuitive and detailed visualization of the factors that drive your IT success. Don't just take our word for it, check out the Gartner Magic Quadrant Report that highlights AppDynamics as the best overall APM solution in the market today.